World Cup 2018: Creating the betting centre for Sportsbet.io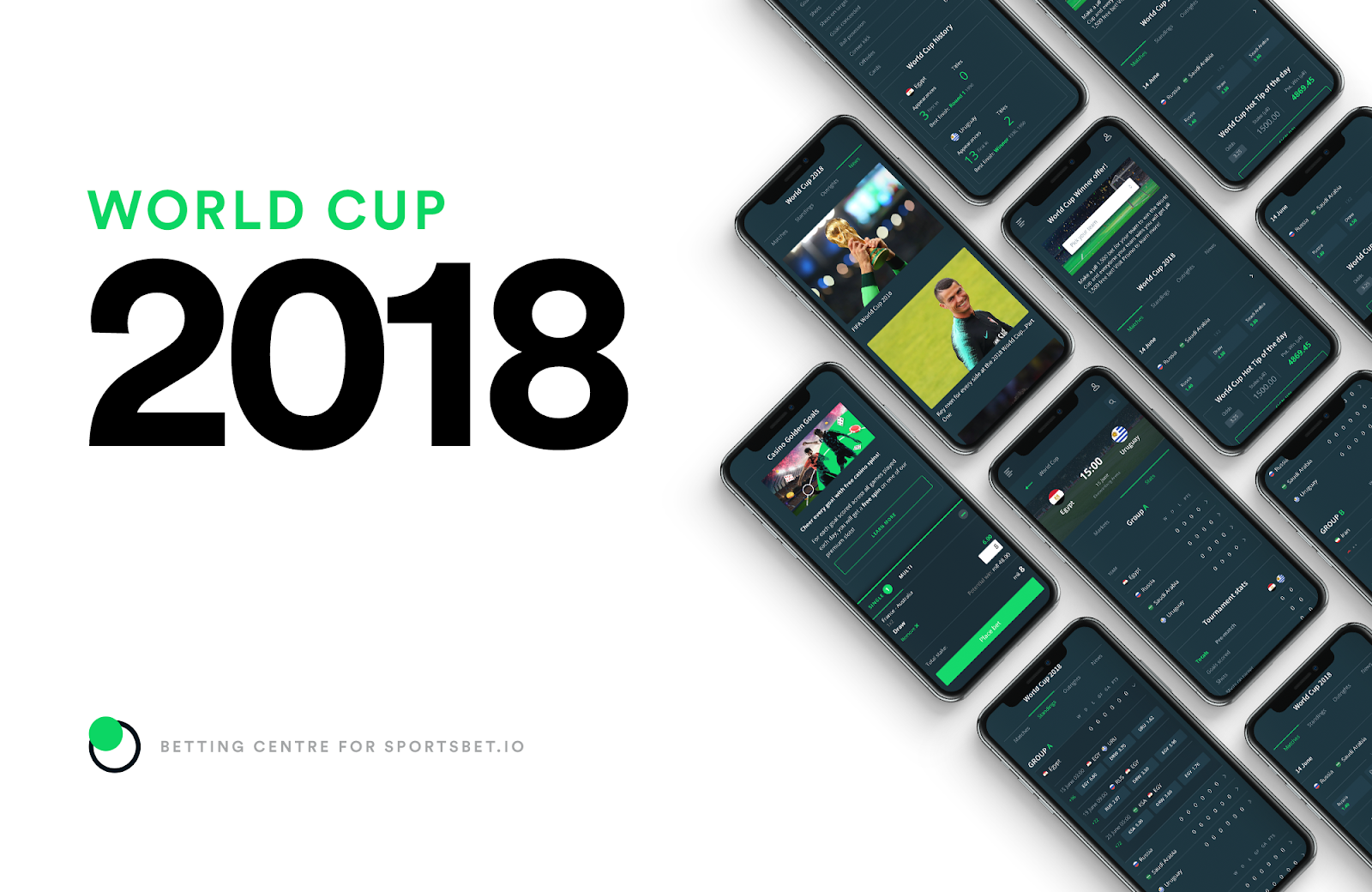 One of the main events in sports is the FIFA World Cup, it plays a huge role in the sports betting industry. It's comparable to the Oscars in the betting world, so of course, we wanted to do something really special for this event.
We launched the new Sportsbet.io in the middle of December 2017, and after just two months we had started getting to work on our World Cup Centre. One of our company's main goals is to disrupt and innovate, so in-line with this we wanted to create something that would stand-out from our competitors, while providing a top-notch experience for our customers. As a result, the World Cup 2018 became our main focus.
User story mapping and wireframing
We started off with brainstorming different ideas and suggestions, then we followed up by user story mapping. During user story mapping we identified exactly what we would be capable of delivering, and what our customers would like to have.
The next step was the wireframing where we listed and identified the content and structure. We printed out the wireframes for a more easy way to engage and gather feedback with the main stakeholders.
Matches
This would be the default section where the user would land. Here we imagined the timetable of live and upcoming matches with fixtures and odds, paired with an ability to view most popular markets, win probabilities and other useful information. On the right hand side we would display our main promotions such as Free Bet offers, Casino offers, Bet of the day and Outrights. The important thing here, is that it the user could see it all without leaving the page.
Standings
That's where we would comprehensively display all the groups with all the relevant and vital stats for each team such as points, goals etc. Users would also be able to look ahead with a timetable of future matches and the correspondent odds. Once the group stage finished, this area would be replaced with the play off section.
News
Being current and relevant is essential these days, and with content it's no different. We wanted our news section to consists of two columns, a larger feature column on the left — containing shareable, engaging, in-depth articles — and a smaller daily news feed on the right, for up-to-the-minute news stories about the tournament.
We delivered and even exceeded our own expectations! With up to 20 articles per day in over eight languages going onto the portal, we aim to give our customers no reason to leave our site to find out any additional information they might need to make a bet.
Pre-live event
The event paged was completely redesigned, specifically to fit the needs of the World Cup event. Our goal was to provide as much insight for the user as possible like: group info, top scorers, previous encounters, tournaments stats and World Cup history. The idea behind this is simple at its heart, it's to make everything easy for our customer, so they can concentrate on making the best bet.
LIVE event
Like the pre-live event page, the live page would be made up of changing stats and information about ball possession, number of cards for each team; it would be the most comprehensive World Cup Live page on the market.
We also partnered with BetNav, who supplied their special live tipping graph which has the ability to predict when the next goal would be scored. In keeping with our fun, fast and fair mantra, the Predictor adds yet another layer of entertainment for our customers.
We didn't just stop at creating a World Cup Centre, we also decided to launch new features which we discovered were on our customers' wish list:
Cashout
Freebets
Euro integration
Bitcoin exchange
SOC coin support
Mobile improvements
Performance improvements
Massive improvements to search
At this point in time, you can imagine how busy our roadmap was looking! So, we rolled-up our sleeves and set about delivering the goods!
The Development team faced a real challenge as they built all these features in parallel. However, there was another problem, our Backoffice wasn't up to scratch, we needed more from it — so we built a new one.
The new Backoffice allowed for a stable environment which our Developers had to have to complete the mammoth task of the World Cup. Within a super tight deadline, a fraction of what our larger competitors could image, and due to the dedication of the Developers, (special thanks to Peeter Tomberg) our Backoffice was rewritten and we were ready to continue.
Sportsbet TV
Seeing competitors flirt with the use of live TV in their content mix inspired us to take things to another level, and produce a live Twitch TV show that wraps around the World Cup games. The concept aims to give the customer an interactive second-screen experience, filling the gap left by many of the mainstream broadcasters.
We brought onboard professional commentators from BBC Radio 5 Live, Capital FM and TalkSport, along with the Sportsbet.io team and some of Europe's top live TV specialists on the project. The focus will be on the expert analysis of the games, a fun and laid-back studio vibe, and particular emphasis on references to the betting and the mechanics of our offers, as well as celebrating the thrill of watching a match you have money on.
Landing pages and promotions
Meanwhile our Marketing department was really busy helping craft our fantastic promotions and offers for both our new and existing customers. Our offers include the popular boosted odds, outrights offer, daily free spins, and creative casino offers.
When it came to how the landing pages should look, we had two visions so we created both and basically did an A/B test to see which one would perform better. The idea behind the promotion illustrated below, was to give boosted odds by 50.00 on a particular match. Each day we would have different teams playing so the flags would be changing accordingly creating a dynamic and fresh look.
To help us along our Road To Glory, we decided to bring onboard Odds on Marketing. The marketing agency, who had previously worked with the likes of William Hill and The FA, were drafted to help strengthen and solidify Sportsbet.io's digital brand identity across different channels and platforms.
Engaging social media content (such as the teaser video seen here), targeting a truly international audience in their own language and personalised offers were key aspects of Odds on Marketing's strategy.
Launch
The World Cup Centre was launched on the 7th of June and least to say, it involved so much work form the whole company: Marketing, Design, Development as well as external partners since we had 4 different API providers such as Betnav and BetRadar.
We aimed to deliver the best World Cup betting experience and we did. Our customers were kept in mind whenever a decision was made, the remained at the centre of our universe. Now we can offer them with the truly fun, fast and fair World Cup Centre that would hopefully make the World Cup 2018 a memorable one.